SEGRICO200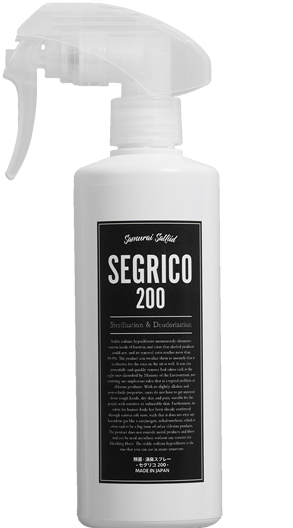 A disinfectant and deodorizing spray made with twice the concentration of "Stable Sodium Hypochlorite" as the original SEGRICO.
It instantaneously deodorizes and disinfects various bacteria and viruses at the same time.
Despite its powerful effect, it is made from safe ingredients and can also be used in environments with babies.
This one spray can be used for all scenes in everyday life. It is a "Next Generation Disinfectant and Deodorizing Spray".
Product Number
SR-20301
Capacity
300ml
Ingredients
Stable Sodium Hypochlorite, Pure water
Effective chlorine concentration
200ppm
Nature
Weak Alkaline
pH
10.2-10.9
Characteristics
colorless, transparent, odorless and liquid
Container Type
Spray bottle
Bottle Material
PE, Trigger: PP, PE
Product Size
Diameter:57mm, Bottle straight part: 125mm,
Total height: 200mm
Suggested retail price
Open price